About Jennifer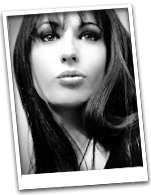 My name is Jennifer Spence, and I'm a 31 year old lifestyle photographer based in Denver, Colorado. I've had "the shutter bug" since I was very young, saving up money for my first Polaroid at age 9 and proceeding to take pictures of EVERYTHING with it…needless to say things haven't changed much! When I'm not busy with photography I enjoy dabbling in makeup artistry, spending time at home with my boyfriend, and attempting to teach my cat circus tricks.
As a child, my relationship with cameras was limited by film expenses. With the dawning of the computer age, I was quickly seduced by the world of digital imaging. Professionally, this equated to an early career in graphic design & marketing…which afforded me the opportunity to hone my retouching skills and develop an artistic style of my own while saving up for camera gear.
After purchasing my first SLR in 2002, my creativity was launched at light speed into diverse directions in the universe of digital photography – and the rest is history! My passion and drive to create top notch portraiture have allowed me to develop a truly unique and contemporary style to my work. Today, I shoot a wide range of photos – from baby portraits to weddings, and everything in between.
In its simplest form, photography is the art of capturing light. More than anything else, I'm grateful for the opportunity to capture the light in those special moments of my client's lives. I am very honored to have the opportunity to preserve those memories in a way that you and your loved ones can cherish for a lifetime.